Project Houseworks enhances lives and strengthens communities through the preservation of affordable housing.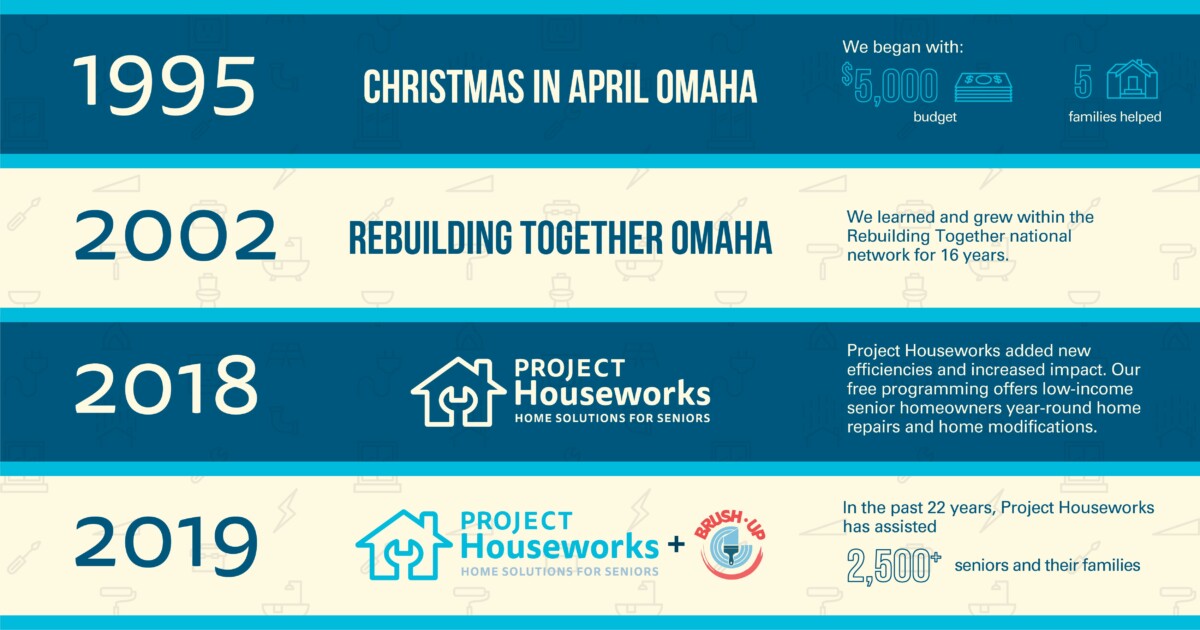 Historically, our non-profit corporation began in 1995 as Christmas in April Omaha. We began with a budget of merely $5,000 and helped 5 families in need of home repairs live in a safe environment. In the past 22 years, Project Houseworks has assisted more than 2,500 seniors and their families.
In 2002 we changed our corporate name to Rebuilding Together Omaha to align with the Rebuilding Together National Office. We learned and grew within the Rebuilding Together national network for 16 years. In 2017, the Board of Directors' strategic planning revealed unique needs and assets in the Omaha community that suggested a new model.
We unveiled our new name in February 2018, Project Houseworks, and expanded our staff to increase our impact in the community. Then in 2019, Project Houseworks began exploring other ways it could help impact the need for safe, quality affordable housing. We began purchasing, rehabbing and reselling single family homes in order to provide the dream of home ownership to low income families and revitalize neighborhoods. Based on the early success of this program, the organization officially adopted its Home Affordability Program in 2021. This program is designed to develop affordable housing for low income families and help address the shortage of affordable housing in Omaha and surrounding areas. In addition to our Senior Programs and Home Affordability Programs, Project Houseworks regularly engages in collaborations to enhance services to its clients and the community. This ranges from its Brush Up event with teams of corporate and community sponsors to paint the homes of low income seniors to a collaboration with the Heating and Cooling Contractors Association to safeguard clients from electrical hazards.
Follow us on Facebook, Instagram and Twitter to see real time updates and stay caught up with our work and needs.